Description
On February 7th, we will discuss how blockchain (that built bitcoin), can reshape the future of Haiti and its diaspora. We will delve deep into how blockchains and cryptocurrency can change the way we live, society, do business, and improve governments.

After the major success of Simple UX Design Principles That Will Drastically Improve Your Marketing Campaigns Webinar with American Marketing Association and Aquent/Vitamin T on April 18, Bettinna Justinien, President and Creative Director of Bettymedia™ bring Cake and UX to the business and startup world. A presentation/discussion series, serving cake and wine, while providing an enjoyable workshop experience to entrepreneurs, founders, small business owners, marketers, developers, designers, and students.
This event is held in partnership with U.S. Haitian Chamber of Commerce, Inc., that promote and assist Haitian American businesses by creating a platform where they can showcase their services to the communities in Massachusetts. 
---



Cake and UX: How blockchain (that built bitcoin), can reshape the future of Haiti & its diaspora.
The blockchain technology that built bitcoins has drastically changed the way people use money and manage assets in the digital world. Major media coverage of cryptocurrency has not been great and has not provided a full report to what the new technology is capable of and can do. Because for the first time, this emerging technology is giving power back to the people, by removing unwanted mediators from financial agreements and transactions. For the first time in history people are able to have access to secure and decentralized form of digital currency and banking created by the blockchain system. For the first time in history people can ensure the integrity of their democratic process is fair and transparent in a blockchain-powered election. 

With this technology, Haiti can be transformed, lead a new generation, and efficiently restructure Haiti's economic future. 
We will discuss:
What is blockchain, cryptocurrency, and what makes them so different from other technologies and services

How the diaspora can come together and connect with Haitians on the ground, and figure out a practical solution to remedy Haiti's economic health through the blockchain system

Ways the technology can work in the current infrastructure and government 

The architectural difference between centralized application versus decentralized (DApps) applications

Real-world examples in blockchain and cryptocurrency, of how to apply it to existing projects and businesses


Case studies from big brands, startups, independent entrepreneurs using blockchain and cryptocurrency

...And more.
Business people, doctors, nurses, accountants, lawyers, real estate agents, sales people, bakers, hair dressers, makeup, fashion designers, artists, IT managers, web developers, software developers, research analysts, political scientists, fintechs creators, computer programmers, graphic designers, engineers, mobile app developers, economists, database administrators, all are welcome at this event.
Agenda:
6:00 pm - 6:30 pm: Doors open, cake and wine for guests, networking. 
6:30 pm - 7:15 pm: Presentation & discussion
7:15 pm - 7:30pm: Q&A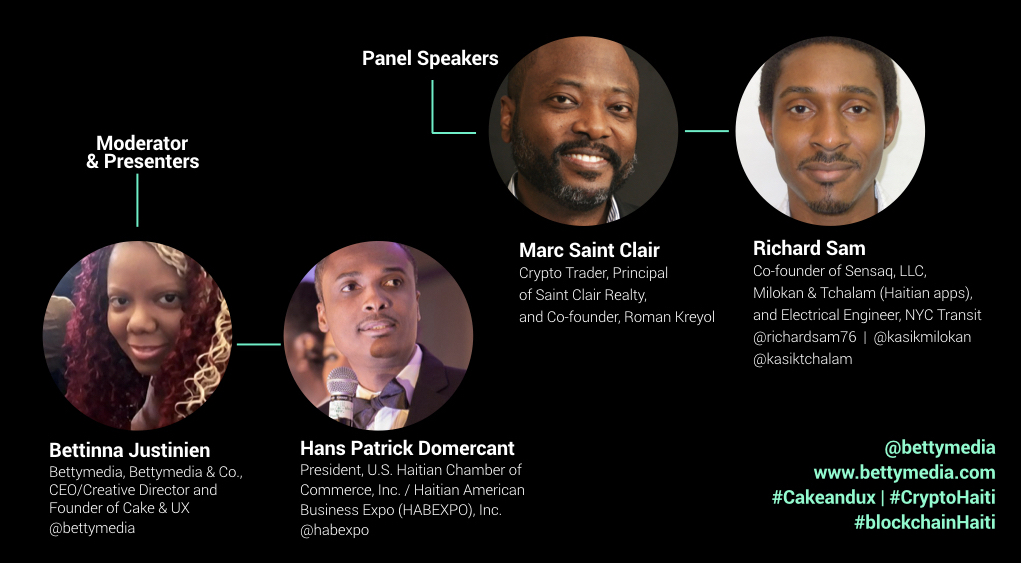 Panel speakers:

Richard Sam, holds a bachelor's degree in Electrical Engineering. He works in the transportation industry where he designs fiber network infrastructures in New York City. He is also an entrepreneur working on building startup companies in both Haiti and the US.
In the US, Richard is the Co-founder of Sensaq, LLC, a startup company that is developing a sensor data management solution. In Haiti, Richard is part of a team that is developing mobile applications that combine culture with technology. Two of these mobile applications are, a repertoire for Haitian Vodou called Milokan, and a lottery app called Tchalam.
Marc Saint Clair, is a Crypto Trader, Co-founder of Roman Kreyol, a novel digital entertainment platform geared toward changing mindset in Haitian community, and is Principal at Saint Clair Realty. Marc has been an entrepreneur and new venture consultant in Boston since 2004. His fields of experience span from innovation, technology entrepreneurship and social entrepreneurship.

As the principal at Saint Clair Realty, Marc's firm has been providing brokerage real estate service to buyers and sellers throughout Massachusetts. Marc is a part time business instructor for the Bootstrap Bootcamp entrepreneurship training program at the Mullings group, a holistic entrepreneurship program that focuses on grooming the entrepreneur as a leader. Marc currently serves as an advisor to a number of early-stage companies and is a technical consultant for the Haitian American Business Expo. He is a dynamic and dedicated entrepreneur with expertise in product concept, scoping, development, launch and value creation. Marc has an MBA in Entrepreneurship from Babson College and a BS in Biology and Chemistry from the University of Miami
What are you waiting for?
Save your seat to this incredible event, enjoy your slice of cake, with a glass of wine.
 
#blockchain #fintech #Haitian #Haiti #diaspora #Boston #technology #education #business #BlockchainHaiti #CryptoHaiti #crypto #CakeandUX
Moderator & Host:
Bettinna Justinien, President and Creative Director of Bettymedia™, specializing in UX design, Web/Mobile, branding, design for software, applications, and has done deployment for IBM, Citi, AXA, Waterfront Alliance, Times Square Alliance, and others. Prior to her design career, Bettinna worked as a financial analyst for Lehman Brothers, JP Morgan, Credit Suisse, and did a stint in publishing, helping her understand business needs and provide effective creative solutions to both small and large businesses.
She is currently building a system to educate the UX design industry on blockchain technology and the cryptocurrency industry, to help design better, more intuitive experiences and processes for users, now and in the future.

Justinien is Caribbean Canuck adventurer and from time to time, directs short films as part of The International Kino Kabaret.


Hans Patrick Domercant, President, U.S. Haitian Chamber of Commerce, Inc. / Haitian American Business Expo (HABEXPO), Inc., 
Partner:
U.S. Haitian Chamber of Commerce, Inc., is recognized as the leading Haitian business association in Massachusetts for advocacy, networking and economic growth. More information is available at www.ushaitianchamber.org / www.habexpo.org
Our Cake Partner:
Veevee Delights, Inc. is a home based business in Brooklyn, NY, with a Haitian dessert cake specialty, run by President, Vernette Garcon. 10% off for new customers! Contact at: veeveedelights@gmail.com.  


Date and Time
02/07/2019 6:00 PM - 02/07/2019 7:30 PM EST


Location
Boston Public Library | Hyde Park Branch
35 Harvard Ave
Hyde Park, MA 02136



Back to Job Fairs